Welcome to the Sno-Isle Libraries Educator Newsletter for March 2023. In this issue, you will find information about test prep, school partnership initiatives, upcoming events, and more. If you have any questions or would like to partner with us, please reach out to your local librarian or contact us using the School Support Form.
---
Test Preparation Resources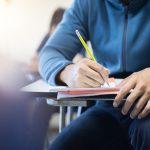 Peterson's Test & Career Prep
Prepare for standardized tests with eBooks, online courses, and full-length practice tests for GED, SAT, ACT, AP, PSAT, GRE, LSAT, MCAT, TOEFL, ASVAB, U.S. citizenship tests, and more. You can also create a résumé, find your ideal career, and search for your next job.
Brainfuse HelpNow
Brainfuse HelpNow has several tools to help students prepare for tests including Smarter Balanced Assessments, GED, PSAT, SAT, and ACT.
---
Prime Time
Prime Time Family Reading is offered by several Sno-Isle community libraries in partnership with elementary schools and Humanities WA, our state's affiliate of the National Endowment for the Humanities. 
This six-week program promotes family engagement by inspiring families to read, think, discuss, and learn together. Schools implementing Prime Time saw the percentage of their students meeting grade-level standards for reading grow by an average of 4% for the student body as a whole.
The program strives to remove barriers to access, including offering books to borrow, dinner or a grocery store gift card, and child care for younger siblings each week. If you're interested in learning more, reach out to your local library!
---
Third Graders Read Together
Third Graders Read Together is Sno-Isle's signature third-grade reading program, centering on Washington Library Association's OTTER Award. The goal of the OTTER Award is to highlight titles for readers transitioning into chapter books. Get a behind-the-scenes look at the OTTER Awards.

Have your students finished reading this year's OTTER nominees? Check out these read-alike lists for even more great transitional chapter books.
And don't forget to gather and submit your students' votes for the 2023 OTTER Award! Check the OTTER Award website for updated voting information as it becomes available.
---
Upcoming Events for You and Your Students
Educator Workshop: Library Resources for Teacher Development
Tuesday, April 18
4:30 PM – 5:30 PM
Online event
Learn how Sno-Isle Libraries free online courses and resources can support your continuing education and develop your technology skills. Washington state clock hours (1.0) are available for this class. 
The STEAM Discovery Project
Saturday, April 29
2:00 PM – 3:00 PM
Online event
Learn about careers and education pathways in STEAM (Science, Technology, Engineering, Arts, & Math), plus the resources to get you there including tutoring, workshops, mentorship, and more.
College Preparation for High School Students
Saturday, May 20
5:00 PM – 6:00 PM
Online event
Get help applying for college and financial aid. Learn how to fill out FAFSA and WAFSA forms. A guest from Main Education Consulting will share tips and tricks to make applying for college and accessing funds easier. 
Watch Now: Why Are All the Black Kids Sitting Together in the Principal's Office?
Beginning as early as preschool, Black students are disproportionately suspended and expelled from school. Daudi Abe demonstrates that the racial opportunity gap cannot be solved without first addressing the discipline gap.
---