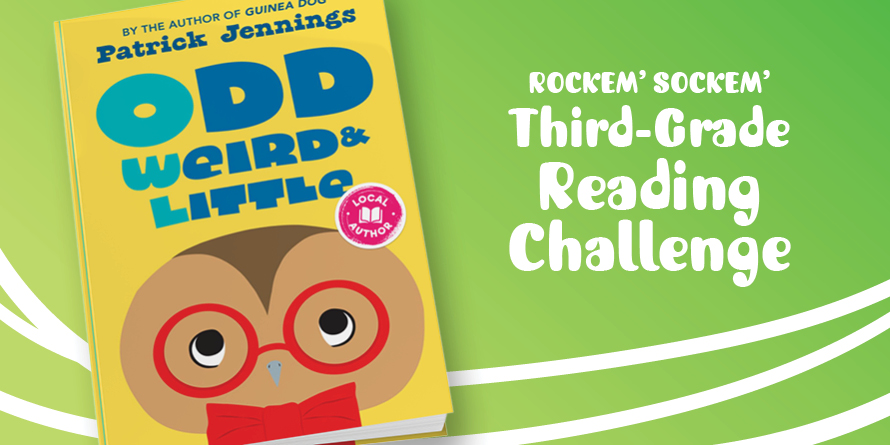 Welcome to a new series of blog posts for the Third Grade Reading Challenge, opens a new window for 2020-2021! In this five-part set, we'll highlight each of this year's books sharing author information, discussion questions, activities, and suggestions for more books to read. Our first post starts out with Odd, Weird, and Little by Patrick Jennings!
Starting December 1 for 90 days, there will be unlimited access to the eBook of Odd, Weird and Little, opens a new window on Overdrive and Libby. Additionally, you can call StoryPhone, opens a new window starting November 30 to hear chapters of Odd, Weird and Little read to you over the phone! Dial 360-651-7171 and press 5 when prompted to listen. Chapters will be updated every Monday and Thursday.
Patrick Jennings currently lives with his family in Port Townsend, on the beautiful Olympic Peninsula in Washington State. http://www.patrickjennings.com/bio/
Discussion Questions for Odd, Weird, and Little:
What did you like about the book? What did you NOT like about the book?
Toulouse and Woodrow quickly become friends. How are they the same? How are they different?
What makes Toulouse different than the other students?
How does Toulouse deal with bullying? Was his response a good one? Why or why not?
Bullying is a theme in the book. How does the author talk about bullying? How does it get resolved at the end?
By the end of the story, readers know that Toulouse is not human. What is he? What are your clues?
Expansion Activities:
Toulouse dresses differently than other students. Can you dress up like Toulouse? Can you dress your pet or stuffed animal like Toulouse?
If you liked Odd, Weird, and Little, you might like to read these, too:
Guinea Dog: When his mother brings home a guinea pig instead of the dog he has always wanted, fifth-grader Rufus is not happy--until the rodent starts acting exactly like a dog.

My Homework Ate My Homework: When Zaritza is assigned to care for her class ferret Bandito over winter break, he escapes and eats her other assignments, leaving her with an unbelievable excuse!

The Truth of Me: Robbie and his dog, Ellie, spend the summer at his grandmother Maddy's house, where Robbie learns many things about his emotionally distant parents and himself.

Dog Days: Gavin wants to make a good impression at Carver Elementary, where no one knows he excels at soccer and skateboarding, but an annoying big sister, a bully, and his great aunt's Pomeranian are not helping.

Science No Fair!: When Logan Applebaum's mother invents a robotic cousin for him, Logan thinks this may give him an edge in the third grade science fair but the Silverspoon twins have other ideas.

Big Foot and Little Foot: Hugo is a young Sasquatch who longs for adventure. Boone is young boy who longs to see a Sasquatch. When their worlds collide, they become the unlikeliest pair of best friends.