To Do! To Go! activities and crafts are physical, take-home bundles that are available for contact-free pick-up at each community library.  These fun, engaging and tech-free activities may include printable booklets, science experiments, art projects and more.  Three new sets of activities will arrive each month for the following age levels: Preschool, Kids, and Teens.
Preschool
Math Booklet: Fun STEM activities for preschoolers that will show them how math and numbers are all around us.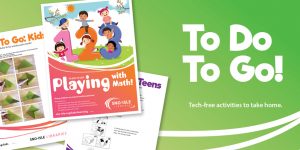 Kids
Corner Bookmarks: Origami bookmarks that can be constructed by folding a piece of paper. The bookmark can then be decorated to create your own spaceship or monster!
Teens
Cubeecraft (pronounced "kyoob-ee"): Paper crafts that are created by interlocking tabs to construct toys and characters. No need for glue or tape!
If you are interested in picking up any of the activities available this month, call your local library and you can pick them up like any other contact-free service.