Meet the next guest in Sno-Isle Libraries online author series Open Book, the talented, creative, award-winning Mary Robinette Kowal.
Register in advance for this Zoom webinar and learn what makes the creative science fiction-fantasy novelist, voice actor and puppeteer tick at 6:30 p.m. Tuesday, March 16.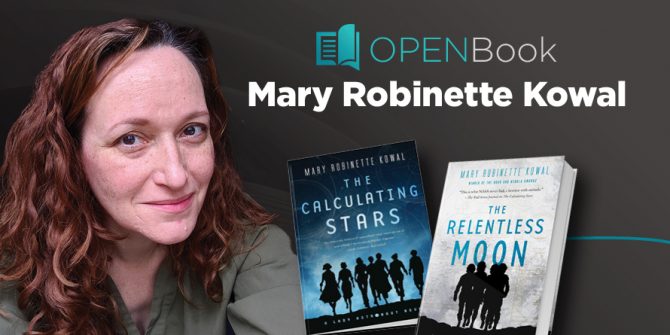 Kowal's genres are alternate history and historical fantasy. She'll discuss how she uses the tools of fiction to explore race and gender relations in space.
Kowal's fans know her as author of the Lady Astronaut series ("The Calculating Stars," "The Fated Sky" and "The Relentless Moon"), The Glamourist Histories series and Ghost Talkers.
When creating an alternate history, authors need to consider patterns from the real world. For "The Calculating Stars," Kowal reimagines the space race with more active involvement from women and people of color. In her research, she began by assuming that they were involved and had been erased.
Alternate histories like these explore questions relevant to modern spaceflight. Do women find equity in science research, technology, planetary science and human space exploration? What are the social implications of the push for space?
Sno-Isle Libraries Digital Experience Manager Jackie Parker is over the moon about Kowal's visit.
"She's won gobs of awards and is at the very top of the sci fi-fantasy field. Really," Parker said. "Kowal's work is intersectional, creative, historically accurate when she isn't intentionally changing things, and scientifically sound when she's writing sci-fi rather than fantasy, which she also does."
Kowal is president of the Science Fiction and Fantasy Writers of America. She has received the Astounding Award for Best New Writer, four Hugo awards, the RT Reviews award for Best Fantasy Novel, and Nebula and Locus awards. Kowal's stories have appeared in "Strange Horizons," "Asimov's," several Year's Best anthologies and her collections "Word Puppets" and "Scenting the Dark and Other Stories."
Kowal is more than a novelist.
She frequently co-hosts the award-winning podcast Writing Excuses ("15 minutes long, because you're in a hurry, and we're not that smart"), and she's a professional puppeteer and voice actor. She has performed for "LazyTown" on CBS, the Center for Puppetry Arts and Jim Henson Pictures. She founded Other Hand Productions. Her designs have garnered two UNIMA-USA Citations of Excellence, the highest award an American puppeteer can achieve. She records fiction for authors such as Seanan McGuire, Cory Doctorow and John Scalzi.
Kowal lives in Nashville, Tennessee, with her husband Rob, surrounded by more than a dozen manual typewriters. Learn more by visiting maryrobinettekowal.com.
This Open Book event will be recorded for later viewing on the Sno-Isle Libraries YouTube channel.