When the publisher of "Harry Potter" wanted to update the covers of the wildly popular book series to honor its 15th anniversary in 2012, it turned to Seattle author, illustrator and graphic novelist Kazu Kibuishi.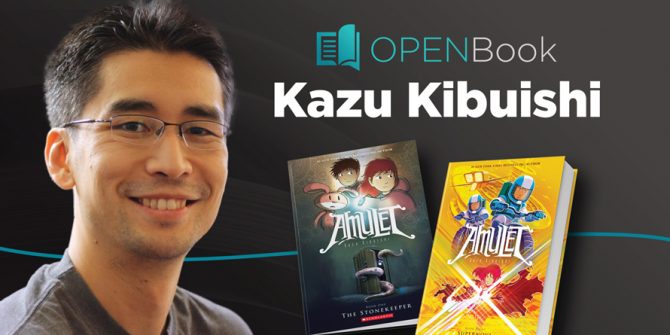 Kibuishi is best known as the writer and illustrator of the New York Times bestselling "Amulet" graphic novel series for young readers. Kibuishi will pay a visit to Sno-Isle Libraries Open Book online author series at 4 p.m. Saturday, April 24. Register online for this Zoom webinar.
Kibuishi was born in Tokyo in 1978 when his American-born mother was studying at Keio University. Kazu's mother brought him and his little brother to the Los Angeles area in 1981. Kazu began drawing comics when he was 5 years old and kept drawing them until he was ready for college.
He didn't go to art school to hone his skills though. He enrolled in the University of California Santa Barbara and graduated in 2000 with a degree in film and media studies.
While Kibuishi worked in graphic design, architecture and animation in the Los Angeles area by day, he was still drawing comics and writing stories. His debut graphic novel, "Daisy Kutter: The Last Train," won a YALSA Best Books for Young Adults Award in 2005.
"Amulet" was taking shape in his mind, waiting for a way to get onto the page.
Kibuishi was inspired in college by "Nausicaa of the Valley of the Wind" by Hayao Miyazaki and "Bone" by Jeff Smith. He wanted to create a graphic-novel series that could stand alongside those acclaimed works. He kept those two books on his desk as a reminder of what he wanted to achieve.
"I also wanted to write about growing up with my brother, and our experiences having to help our parents out financially while we were in our early 20s," Kibuishi said on his website. "So, 'Amulet' is a combination of many inspirational fantasy/sci-fi movies, games and books combined with the emotions of what our family went through in the years after my brother and I graduated college."
The "Amulet" series debuted with "The Stonekeeper" in 2008. Then came "Amulet 2: The Stonekeeper's Curse" (2009), "Amulet 3: The Cloud Searchers" (2010), "Amulet 4: The Last Council" (2011), "Amulet 5: Prince of the Elves" (2012), "Amulet 6: Escape from Lucien" (2014), "Amulet 7: Firelight" (2016) and "Amulet 8: Supernova" (2018).
All good things must come to an end. Kibuishi is wrapping up "Amulet."
"I am currently drawing 'Amulet 9,' the final book in the series," Kibuishi said. "Scholastic Graphix (the publisher) will announce a release date when we get closer to its completion."
Kibuishi said several movie production companies and studios have attempted to adapt the "Amulet" series into a movie, but the projects never got beyond initial scripts.
"The movie rights are back in my possession and I am currently considering what to do with them," he said. "My focus remains on books, but I would like to see 'Amulet' in motion."
Kibuishi stays busy. He is also the editor/art director/cover artist of the "Explorer" and "Flight" graphic story anthologies, and he created the webcomic Copper in 2010.
He's been working on a follow-up to "Amulet," too.
"I have been developing a different series for a long time," Kibuishi said. "The project is something I started working on years before 'Amulet' was published, though the project is not quite as old as 'Amulet.'"
Kibuishi is fourth-generation Japanese-American. His mother and her parents grew up in the New York borough of Brooklyn. Kibuishi lives with his wife and two children near Seattle.