Civility First, Pacific NorthWest Art School and Sno-Isle Libraries in Oak Harbor, Coupeville, Freeland, Langley, Clinton and Camano Island want to see how Island County residents interpret civility through artwork.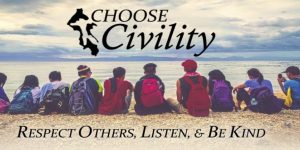 The organizations invite participants of all ages and experience levels to submit an original artwork or photograph with the theme "Choose Civility: Respect Others, Listen & Be Kind." 
"Perhaps the art contest can help stimulate conversations in people's homes about why it matters to listen to others," said Elizabeth Guss, contest organizer with Civility First. "I hope that, in the safety of our families, we can deepen our understanding about what it means to be kind, to be respectful. In creating a visual image of kind, caring behavior toward another person, we might well develop a new commitment to patience and understanding. Maybe we can remind ourselves that good, loving people often have different opinions. We need one another to solve our problems." 
"The art contest is a chance for Island County residents to express their vision for a society that communicates with an open heart and an open mind," said Sno-Isle Libraries Librarian Katrina Morse. 
The art contest will award $100 for first place and $50 for runner up in each of the three age divisions for children (ages 12 and under), youth (ages 13-18) and adults (18 and older). 
Each contestant must create original artwork or a photograph without any copyrighted characters or images. Acceptable media includes marker, pencil, paint, computer, photography, fabric, and mixed media. 
Original artwork size is limited to a design area no larger than 8 by 10 inches and a maximum overall size of 9 by 12 inches. Minimum margin per side is ¼ inch, maximum margin per side is 1 inch. 
Submit a high–resolution (300 dpi minimum) digital photo of the art along with other information about the entry and artist at civilityfirst.org/art-contest no later than Aug. 15. The contest is limited to one submission per person. 
The Pacific NorthWest Art School in Coupeville will judge the artwork, with winners expected to be announced by Aug. 25. 
Civility First will display a gallery of the entries on its website.