Sno-Isle Libraries' 2021 online author event series begins Jan. 19 with Open Book: Terry Brooks.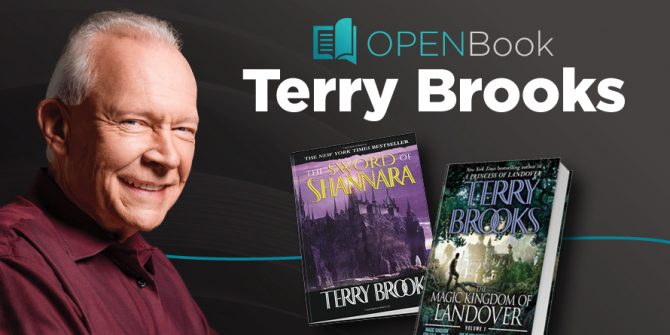 Brooks is best known for his epic fantasy "Shannara" series, which debuted in 1977 as "The Sword of Shannara." It was the first work of fiction to appear on the New York Times Trade Paperback Bestseller list.
"The Sword of Shannara" and its many sequels and spinoffs have inspired generations of fantasy fiction readers. The Shannara series includes the Heritage of Shannara, the Voyage of the Jere Shannara, Genesis of Shannara and High Druid of Shannara.
While Brooks was busy with "Shannara," he also wrote the "Word and Void" trilogy, the "Magic Kingdom of Landover" series, "Armageddon's Children," "Street Freaks" and the novelization of "Star Wars Episode I: The Phantom Menace."
"The Last Druid" concluded the Fall of Shannara and wrapped up the entire Shannara series in 2020.
"What does someone do as a follow-up to the end of a 40-book series that consumed 50 years of an author's life?" Brooks asked rhetorically.
That's the broad outline of Brooks' Open Book discussion with his webmaster, friend and keeper of all "Shannara" knowledge, science-fiction author and editor Shawn Speakman.
Speakman has been a fan of Brooks for a long time.
"In 1996, I started a website dedicated to the works of Terry Brooks," Speakman said. "I didn't know him. I was a mere fan wanting to celebrate his novels. After three years, the website had grown so large with traffic that at a local event I approached him about the website becoming official. Terry agreed and we've been friends and partners in sci-fi and fantasy ever since."
Brooks is working on what his future holds as an author.
"Where do you go next and not disappoint your readers?" he asked. "Darned if I know, but maybe Shawn and I can figure it out in our Zoom event. At least we can give it a try."
Find out what Brooks might have in store by signing up online for Open Book: Terry Brooks. The event is scheduled for 6:30-8 p.m. Tuesday, Jan. 19, as a Zoom webinar with space for up to 3,000 participants.
Learn more about the Open Book series, including recommended reading, upcoming events and author features, at sno-isle.org/openbook.