During Granite Falls Library's annual Hogwarts Summer School on Saturday, a customer asked Library Associate Alayna Katsel, "Are you open for regular business today?"
Katsel, dressed as Bellatrix Lestrange from the house of Slytherin, said the library was indeed open to everyone for regular business.
"Oh good," the customer said. "I wasn't sure since your sign says, 'No Muggles Beyond This Point.' "
It helps to be a wizard or witch when the Granite Falls Library gears up for Hogwarts Summer School to celebrate Harry Potter's birthday, but muggles are always welcome, too.
"We had about 200 attendees," said Library Manager Michelle Callihan. That was on top of the estimated 750 wizards and witches who came to Snohomish Library's Camp Hogwarts on July 31.
Granite Falls had no shortage of activities: the Sorting Hat, magic wands, flying keys, broom lollipops, potions, tea blending, quills, herbology and divinations classes, scavenger hunt, Patronus quiz, tea leaf reading, Quidditch, Harry's cupboard under the stairs, the Owlery and a magic show with Daffy Dave.
"I stood outside of the Sorting Hat ceremony to encourage kids to get sorted into their houses," Katsel said. "A boy and a girl stopped and said hello and I told them that I hoped that they were in my house, which was Slytherin. A few minutes later, both kids came running out of the sorting ceremony to give me a high-five excitedly shouting, 'We're in Slytherin! We're in Slytherin!' "
Katsel said many young witches and wizards were excited to challenge Bellatrix to a duel.
One of Katsel's colleagues asked a young wizard if he'd seen Bellatrix walking around and mentioned that Bellatrix would be teaching potions. The boy's eyes widened.
"Oh no!" he said. "I really wish I hadn't signed up for potions now!"
Circulation Supervisor Brian Hulsey was dressed as Gellert Grindelwald and part of his costume was a giant fake viper, Nagini. Katsel watched a brother and sister visiting Grindelwald's station. The boy was very leery of the giant reptile but the girl was intrigued.
"She gave her brother a dismissive wave, stating, 'It's because you're a Hufflepuff.' Then she walked right up to Brian and fearlessly asked, 'May I pet Nagini, please?' " Katsel said.
The ghosts in the library bathroom caused quite a stir, Katsel said. She heard more than one young patron come out of the restroom saying, "Mom! Mom! There's a ghost in there!"
"The kids got so into the scavenger hunt," Library Associate Cassie Hanson said. "The clues were riddles that led them to different areas of the library and grounds. So many times I heard families running around saying things like, 'I know it's Sirius, but I'm just not sure where he would be in Hogwarts!' "
Hanson said she had one of her regular kids try out his Avada Kedavra (killing curse) spell on her.
"Every time I would flinch like it hurt, but then explain how there was a protective spell was over the grounds for today and he couldn't actually perform unforgivable curses," she said.
Library Associate Jodi Laughlin said a young wizard asked her at the flying keys craft table, "Do these keys really fly?"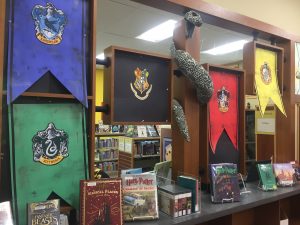 Laughlin said, "What do you think? Why don't you try them out?"
Katsel said one mother pulled her aside midway through the day and said she felt that what the staff was doing was "truly magical," and that she really appreciated all of the time and effort that went into creating this interactive world.
Laughlin heard much the same thing. "Many parents thanked me for the ideas, effort and activities at our Hogwarts Summer School event," she said. "They had very positive comments about the whole day."