If there's one recurring theme of the coronavirus pandemic, it's grief.
It's difficult enough to grieve the deep loss of a loved one. It's harder still now that it's not possible to gather family and friends for a funeral or celebration of life.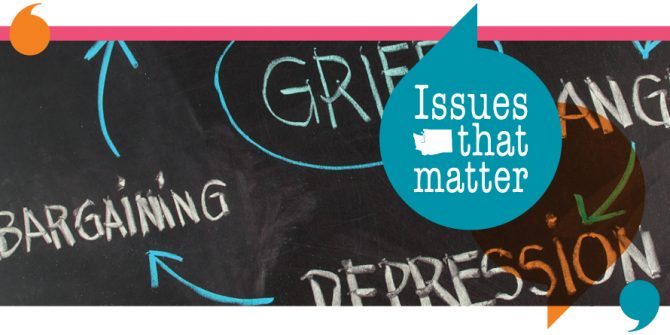 And the pandemic has created whole new categories of grief and sadness.
There's loneliness from the loss of direct human connections when we can't get close enough to hug relatives or friends.
Kids can't be with the friends and classmates.
Many people face uncertainty from loss of work or reduced hours or job instability.
There's a sense of loss from the old comfort of simple, everyday routines.
And there's grief from uncertainty that amplifies anxiety. "What's next? How long will this last? Will we ever get back to 'normal?'"
The next Issues That Matter "Pandemic Pressures: Supporting Community and Family Mental Health" is Coping with Grief, scheduled for 6:30-8 p.m. Thursday, Feb. 18. Panelists, including Whidbey Island counselor Charlene Ray, will try to address the many aspects of grief that now affect our lives and will offer helpful coping strategies for dealing with the wide range of grief many people feel.
This online Zoom event will be recorded for later viewing on the Sno-Isle Libraries YouTube channel.
Register in advance to ensure receiving an email reminder the day before the event and to get the Zoom link to access the program. Please sign in a few minutes early to connect to the webinar and make sure that audio and video are working. Consult the Frequently Asked Questions to cancel your registration or address technical problems.
Zoom access is available through a web browser and can be downloaded for free on Apple and Android devices. A personal Zoom account isn't necessary to participate.
Get answers to questions at sno-isle.org/contact-us.
Learn more about Issues That Matter with recommended book lists and upcoming events at sno-isle.org/issuesthatmatter.