Two creative forces from the fields of fiction and illustration joined forces to create a graphic novel series called "The Cloven" with crossover appeal to young adults and older readers.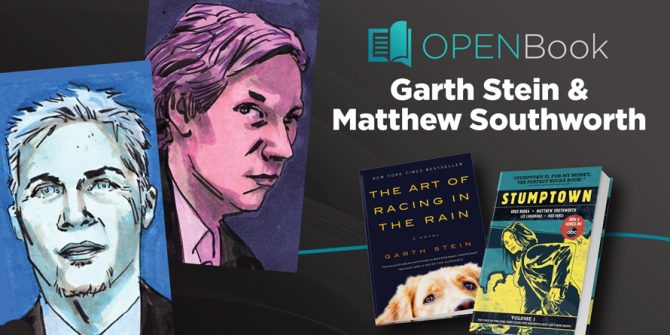 Garth Stein, the Seattle author known for the bestselling contemporary classic "The Art of Racing in the Rain," has teamed up with Matthew Southworth, the Everett-based illustrator of the modern cartoon noir "Stumptown" that's now airing on ABC-TV. They'll talk about their collaboration on "The Cloven" in Sno-Isle Libraries' Open Book online author series at 6:30 p.m. Wednesday, June 16. Register in advance for this Zoom webinar.
"The Cloven: Book One" focuses on Tuck. He lives on the run in and around the greater Seattle area after a life of forced genetic experimentation left him with the hind legs – and strength and temperament – of a goat.
"The Cloven" is more than a story with pictures. Themes include post-humanism, medical and scientific ethics, income disparity, homelessness, diversity and the "othering" of marginalized populations, Stein said.
He initially wrote "The Cloven" as a short story. In 2010, he read it at the Hugo House Literary Series under the theme "Gods and Monsters."
"The story was well received and the Hugo House audience loved the tragic adventure story of Tuck, especially the Northwest setting of mountains and freeways and homeless camps in the middle of a city," he said. "So, I thought I would expand upon the story and turn it into a novel."
Stein asked his wife to read it. She was not a fan.
"She said, 'I don't get how their legs work,'" Stein said. "And I said, 'If you could see a picture of their legs, would you get it?' And she said, 'Yes.'"
Stein wrote "A Sudden Light" and four adaptations of "The Art of Racing in the Rain" for kids and youth readers before he came back to "The Cloven" in late 2016.
That's when he called his friend Eric Reynolds, associate publisher of Fantagraphics, to ask him how to break into the comics business.
"He introduced me to Matt (Southworth), and Matt and I hit it off right away and our visions and ideas were nearly perfectly aligned," Stein said.
Southworth admits he felt some skepticism about the project at first. "The Art of Racing in the Rain" already spent three years as a New York Times bestseller and a movie adaptation was in the works. Garth Stein was well-known name, if not quite a recognized celebrity.
"The indie comics world is littered with projects that started as something else – a novel, a screenplay or some celebrity's 'great idea' – and often those turn out to be very difficult projects for all involved," Southworth said.
His work as a comic artist and writer includes "Spider-Girl," "Spider-Man," "X-Men" and "Thunderbolts" for Marvel Comics, IDW's "X-Files," and several stories for Dark Horse Comics. He has also illustrated projects for Entertainment Weekly, The Stranger, Microsoft and IFC.
Comics use  a particular language that's formal, often theoretical and deceptively simple since  it's how many people learn to read, Southworth said. As a result, some projects just don't translate well from an idea into the comics medium.
Would it work for Stein's draft of "The Cloven"?
"Garth and I really connected immediately," Southworth said. "It was obvious that we gelled on a personal level. What emerged very quickly was that Garth is a very enthusiastic collaborator, not to mention really great at cheerleading a manic-depressive artist. I think we both found it was going to work within the first 10 pages we did together."
When the coronavirus pandemic hit, it challenged their collaboration first by limiting their face-to-face meetings, then as Southworth recovered from his own bout of COVID-19.
"It's been interesting writing about this subject matter in the time of COVID," Stein said. "We're trying to be nimble and to adjust to real-time world changes and incorporate them into our story. Matt is drawing away at Book Two right now, and I'm working on the script for Book Three."
While the next two books are under way, the pair are keeping up interest in "The Cloven" with theclovenproject.com. The website offers bonus material, character backstories and timelines of genetic achievements – both real and "Cloven"-based. There's even a teachers' guide.
As the author, Stein said he sets his ego aside and lets the characters deliver the story they want to tell and take the story where they want it to go.
"That may seem weird to some people, and some of those people are probably even writers who have a different process," he said. "But for me, it means I'm open to any and all ideas that serve to achieve the goal of refining – in this case – Tuck's predicament, his hopes and fears, and his dreams and visions."
Southworth can't say enough good things about working with Stein and developing "The Cloven."
"I enjoy working with Garth more than anyone I've collaborated with," Southworth said. "I know that I'm not the easiest collaborator in the world, but I have had such a good time working with him, and I'm very pleased with what we've done so far. We still have at least two volumes of 'The Cloven' to come, so we're yoked together for a while yet."