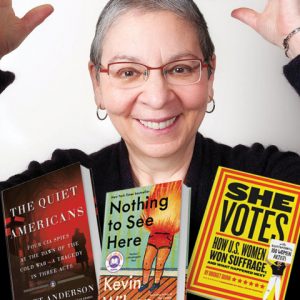 More than 800 people logged into Zoom Nov. 18 to hear famed Seattle librarian and action-figure inspiration Nancy Pearl advise them on the 20 books she likes best for 2020.
"We had a wonderful event," Langley Library Manager Vicky Welfare said.
Since Pearl's first visit to Langley in 1998, the release of her annual book list has been one of the region's high-water marks of the literary year. Pearl usually filled all 246 seats at the Whidbey Island Center for the Arts, but this year she adapted to coronavirus restrictions and shared her list from the comfort of her home in Seattle.
Pearl spent nearly an hour discussing all of the titles, then answered moderated questions for another 30 minutes.
Pearl's virtual talk was funded by the Friends of the Langley Library, the Whidbey Island Center for the Arts, the Star Store and the Inn at Langley.
Pearl's talk was recorded and is now posted on Sno-Isle Libraries' YouTube channel. You can also watch below.
Featured titles on the list include: