Sno-Isle Libraries is expanding in-building services at several of its community libraries.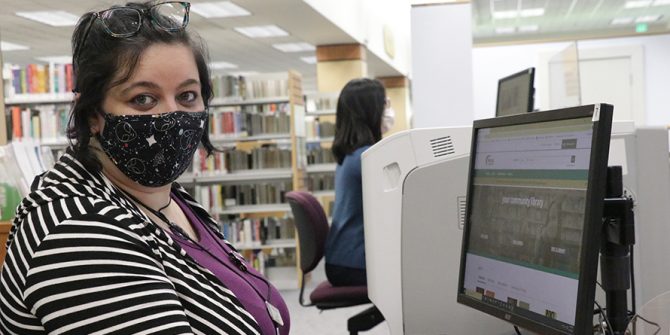 On April 22, the Marysville Library transitioned from a public computing lab in its meeting room to full in-library browsing, public computing, reference help and more.
Several more Sno-Isle Libraries community libraries are working on plans for expanded in-building services to be offered in the coming weeks.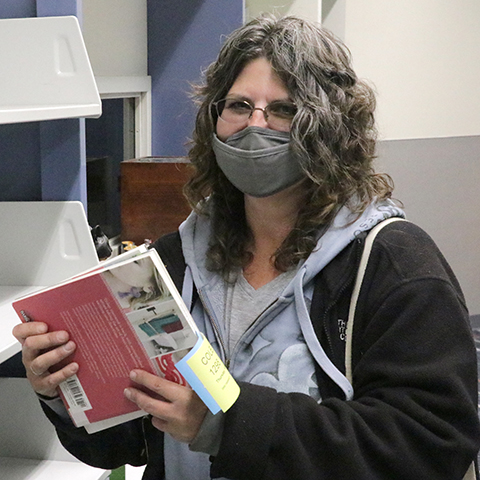 Pam Cole was the first Marysville Library customer to come inside April 22 to pick up two books on hold. She hadn't been in the library since February 2020.
"I'm happy, yes!" she said. "Your opening feels like normalcy again."
Cole's book-loving daughter volunteered at the Marysville Library before the coronavirus pandemic forced closure in March 2020 and put volunteers on an unplanned hiatus.
"She said, 'I can't wait to go back to the library,'" Cole said. "I'm so glad you're open."
Marysville Library Manager Eric Spencer felt the good energy, too.
"We're excited to welcome the public back into the library," he said.
Spencer and Assistant Manager Jill Wubbenhorst were thrilled to have customers call and thank staff members for all of the online programs the Marysville Library and Sno-Isle Libraries have offered during the year of pandemic, but "it's not the same," Spencer said.
"We're ready to greet our customers again," he said.
In the two weeks since the Marysville Library expanded in-building service, Spencer said customer foot traffic has increased and is getting more steady with each day. Many of those customers are people who are coming into the library for the first time since moving to the area in the past year.
"Most people who had been using contact-free services are happy to hear that they can come in to pick up their print jobs and check out their own holds," he said. "People are observing the face covering requirement and keeping their visits brief and efficient, which is helping keep the occupancy down so more can be served."
Customers will notice differences when they walk inside the Marysville Library. It's a lot more open and the wider aisles invite customers to explore deeper into the collection, Wubbenhorst said. It may feel like the materials collection must have shrunk to offer up so much space, yet the collection has actually grown.
It's easier to reach the back of the library to browse the "big three" of DVDs, new fiction and the beefed-up adult world languages section, Wubbenhorst said.
"Even with more open space, now it's neat, tight and browsable," she said.
Up front by the entrance, the children's books section now includes children's world language books.
Public computers are spread throughout the library. Three single-seat PC stations are tucked into the nonfiction collection where it's quieter. That's a change that customers said they wanted, Wubbenhorst said.
In the middle of the library, three PCs are on tables that will permit two family members to work side by side. That was a customer need that arose when the Marysville Library offered public computing in its meeting room but only with single-seat desks, Wubbenhorst said.
Each public computer and its peripherals are cleaned after customer use.
In order to maintain the health and safety of customers and staff, Sno-Isle Libraries limits customers to 30 minutes of browsing per visit and limits the number of customers to 25 percent of building occupancy at each community library that offers in-building services. Go to sno-isle.org/in-building-services to see which community libraries offer in-building services.
All Sno-Isle Libraries community libraries will continue to offer contact-free services as long as the state's pandemic restrictions remain in place.