Boy Scouts learn to overcome obstacles with resilience, and Seraj Zeghuzi proves it.
Zeghuzi needed to complete a community service project to earn an Eagle Scout award. He looked into one potential project, but it didn't pan out. Then Troop 18 Scoutmaster Paul DeCamp told him about a conversation he had with Sno-Isle Libraries staff at the Mukilteo Library.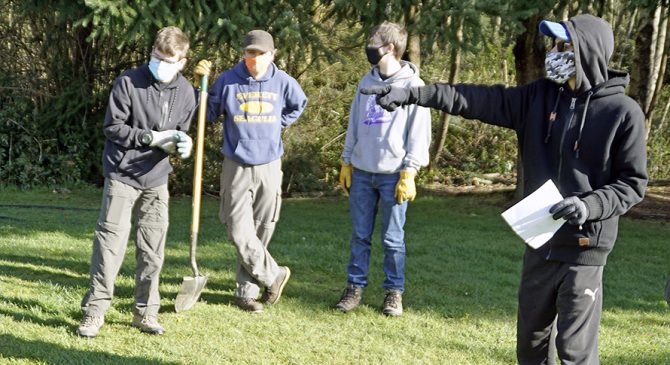 The Mukilteo Library sits along a trail that leads to Big Gulch. Library Manager Jane Crawford saw potential in the popular public path and thought it would lend itself to a Story Trail.
Sno-Isle Libraries has another Story Trail. In 2019, the Oak Harbor Library created one when the City of Oak Harbor revamped Windjammer Park with a new beachside trail.
DeCamp told Zeghuzi about the idea. He was interested.
"Compared with my original project, this one was more well-pulled together," Zeghuzi said. "After I heard that it's on a trail used by many people including families, I felt a need to contribute to the local community."
Crawford gave the Eagle Scout project a green light in February 2020.
The Sno-Isle Libraries Foundation, Friends of the Mukilteo Library, Snohomish County Arts Commission and the Kiwanis Club of Mukilteo provided funds for the posts, panels, concrete and gravel for Zeghuzi's project.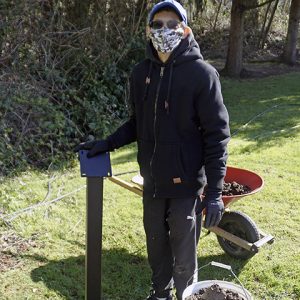 Zeghuzi coordinated with Crawford to map out where each post would go along the trail on the east side of the library building. He had to identify and avoid underground utilities. And then he would dig holes and install 21 aluminum posts. He would need to backfill each hole with gravel and concrete so that each post was plumb and square to create a level platform for the panel he'll attach to each post on May 8.
Each panel will hold a page layout from a children's storybook.
Zeghuzi started scoping the project to get from start to finish. He expected to have the work completed that summer.
Thanks to the coronavirus pandemic, 2020 was a difficult year for anyone to complete plans, even an ambitious prospective Eagle Scout.
"Seraj has been challenged by this project," Troop 18 Assistant Scoutmaster Rob McManis said.
Still, Zeghuzi persevered. He overcame pandemic obstacles. It just took time.
Zeghuzi said the pandemic didn't require him to change much about the project, other than how to do the work safely with other people. He said his troop has completed several projects during the pandemic.
"What I did was include a safety briefing, so people understand to protect each other and how to remain safe during the project," he said.
When Zeghuzi and McManis couldn't meet face to face to talk about his project, they used Zoom.
"We plan what we are going to do, and we execute," Zeghuzi said.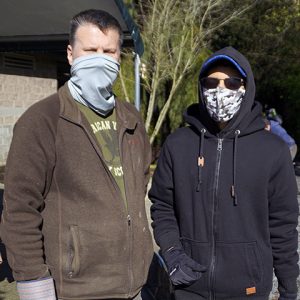 Finally, he was able to dig into his Eagle Scout project. Zeghuzi started installing the Story Trail posts on April 10 with the help of volunteers he recruited and supervised.
"As with all scouts planning and leading a project like this, it's the culmination of many of the lessons they have learned in the course of their scouting career," McManis said. "We adults are here to guide and assist but the scout is the one leading the effort."
Zeghuzi, 17, joined the scout program 10 years ago. He lives with his parents and two younger sisters in south Everett. He's a junior at Cascade High School and attends Edmonds Community College as a Running Start student with a 4.0 GPA.
"I joined Cub Scouts back when I was in second grade as some friends were interested," he said. "We joined Pack 121 together. Then, most of us joined Boy Scouts and we are still together."
Sno-Isle Libraries Facilities Specialist Tom Kreinbring relates to Zeghuzi's efforts since he's an Eagle Scout himself. For his Eagle Scout project, Kreinbring raised money to pay for a landscaping makeover around his church in La Crosse, Wisc.
"I still remember at the beginning thinking it'll be easy to get some stuff from the nursery and plop it in the ground. One day's time and it is over," Kreinbring said. "Little did I realize it would take months of planning and preparation."
Kreinbring has worked closely with Zeghuzi and sees parallels in the projects.
"I know Seraj has felt the same as we work together to make sure everyone feels proud at the end," Kreinbring said. "I've seen him grow in how he asks questions and forms ideas for leading the group."
While Zeghuzi's project scope is smaller than Kreinbring's project was, Kreinbring said it's more ambitious.
"His needs for stakeholder buy-in are so much higher than mine and my hat's off to him," Kreinbring said of Zeghuzi's Story Trail project. "I simply had to get arborists to donate time to tell me what needed to go and what could stay. Seraj needs to get utility companies involved to mark the area, (Library Manager) Jane Crawford's buy-in for locations of the posts, the Sno-Isle Library Foundation's buy-in to fund the project, and Facilities' buy-in that it would not be detrimental to the landscaping and grounds."
Sno-Isle Libraries Facilities Manager R.D. Burley backed the project without question.
"I fully support the work of the Eagle Scout program and how they're choosing to give back to the community by helping Sno-Isle Libraries and the City of Mukilteo with a project that will enhance the community experience while visiting the Mukilteo Library," Burley said. "Tom Kreinbring gets all of the credit from the Facilities team as he has been coordinating efforts from our end and also lending support from one Eagle Scout to a prospective Eagle Scout."
"To watch one of our community's youths grow and develop into a future leader and contributing member of society means the world to me and makes me a proud Eagle Scout," Kreinbring said of Zeghuzi.
Mukilteo Library Children's Librarian Lindsey Anderson said the first Story Trail book will be "Over in the Garden" by Jennifer Ward. Library staff expect to update the Story Trail panels with a new title several times a year.
To see more photos of Zeghuzi's Eagle Scout project, go to flic.kr/s/aHsmVqtnLo, opens a new window.