Tina Ontiveros, author, teacher and an upcoming guest in Sno-Isle Libraries' Open Book online author series on May 20, had a challenging childhood.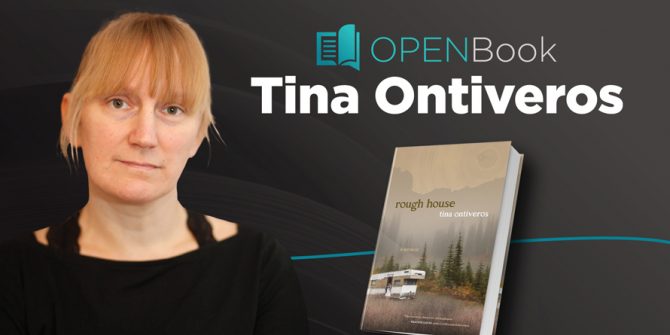 She uses it to tell her story in "rough house," a memoir of growing up amid poverty, joy, adventure and addiction as the daughter of an itinerant logger father in the Pacific Northwest. Register online for this Zoom webinar, which begins at noon Thursday, May 20. 
Those who grew up in an unstable household, moved a lot on parental whims or lived (or live) paycheck to paycheck may relate to Ontiveros' story. 
While Ontiveros was the first in her family to attend college and earned a Master's in Fine Arts, it was a long journey. 
Some children who grow up in poverty and hardship turn to writing or reading to help them escape or cope. Ontiveros didn't, at least not right away. 
"I can't say that I really felt I needed a coping strategy growing up, at least not at all in my first few years," she said. "Poverty and addiction were my realities, but I didn't know anything else. I truly believe that children who grow up like I did learn most of their shame from the outside world telling them there is something wrong with their family, not from the family itself." 
Ontiveros said her father was imperfect, but he was loving and encouraged her creativity. 
"He was a storyteller and that is a big part of 'rough house' because it was really a big part of my early childhood," she said. "I suspect he didn't read stories to us because he could not read well and he was ashamed of that. But he told a great story." 
Her late father plays an important role in the book. 
"My dad was not what he would call 'book smart,' though he was very intelligent," Ontiveros said. "I figured out very early that he did not understand the rules of spelling and grammar. When I wrote the book, I had this goal that I would write it in a way my dad would find approachable. This was important to me. That anyone without the privilege of education could read the book and feel welcome." 
As a logger, her father moved the family to where he could find work, and the family moved a lot. 
"My mother truly cannot say how many places we lived in my first five years, but we always lived in the woods," Ontiveros said. 
An appreciation for reading and writing began when Ontiveros started going to school, and it became an important resource. 
"My favorite part of the day was when a teacher read to us. When my teacher read 'Charlotte's Web,' I went to the school library and checked a copy out," Ontiveros said. "I would always try to get my hands on whatever my teacher was reading in class and try really hard not to get ahead and ruin the surprise." 
Teachers noticed her interest and encouraged her writing. 
"My teachers were always telling me I was a good writer and I scored best in classes where I had to write papers," she said. 
As Ontiveros grew older, she became more aware of her family's financial plight. She sought to escape it, even though that implies some inherent shame in poverty.  
"A big part of why I chose this book was that I am really concerned with the ways we shame the poor," Ontiveros said. "It really is embedded in our culture and I include myself when I say 'we.'" 
She sees the personal effects of poverty in her niece. 
"I've noticed the ways she's processing the shame of poverty much like I did," Ontiveros said. "I wanted to start writing stories for her – and for my own children – so they can see that our history is not just some dark shame." 
While Ontiveros moved herself out of poverty, it wasn't easy. 
"I can share that it is lonely, that there is a cost to moving into a different socio-economic strata from your people," she said. "It can be very hard to connect with people who have not been marginalized. That's my honest experience." 
Ontiveros used community college as a springboard to a bachelor's degree and she wanted to pay back that opportunity by teaching at a community college. 
"At community college, I didn't always feel engaged and I really wanted to teach students who faced barriers like I did, and maybe allow them to engage with material that really reflects their own lives," she said. 
But to teach at a community college, Ontiveros needed a master's degree. She was raising her children, so time and money were issues. She got into a low-residency graduate program at Goddard College. 
"To get an MFA, you have to write a book. So part of it was practical," she said. 
The result was "rough house." 
Ontiveros now teaches writing and literature at Columbia Gorge Community College in The Dalles, Ore. As a writer and a teacher, her work explores class, generational hardship and the social constructs that marginalize the poor. 
Her essay, "The Life We Pay For," was a top 10 most read of 2019 Oregon Humanities Magazine feature. Oregon State University Press released "rough house" in 2020. It's an October 2020 Indie Next Great Read, spent 20 weeks on the PNBA Bestseller's List and has been awarded the PNBA Book Award.