When Donna Barba Higuera was growing up in the remote southern reaches of California's dusty San Joaquin Valley, she burrowed into books.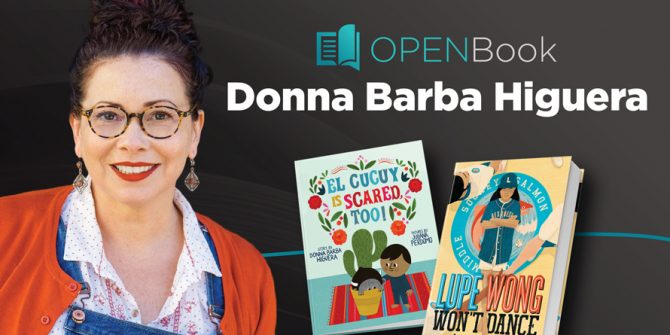 Sno-Isle Libraries welcomes Higuera as a guest in its Open Book online author series with a discussion of her award-winning debut novel for middle-grade readers, "Lupe Wong Won't Dance," at 10 a.m. Friday, June 18. Register in advance for this online Zoom event.
Higuera grew up in Taft, Calif., surrounded by agricultural fields and oil rigs west of Bakersfield. She dealt with the regular dust devils by holing up with a book at recess, befriending the town's librarian and sneaking into a forbidden cemetery to spin her own stories amid the crumbling markers.
Growing up, Higuera said cemetery headstones, names, dates of birth and death all felt "so minimal."
"I wanted to know so much more about each person," she said. "So instead of wondering, I made up stories myself about the storiless people. They went on adventures to exotic countries from my dusty small town."
The books she read from her school library and the town library gave her another creative outlet.
"Authors allowed me to escape my little town and go on adventures so beyond my imagination," Higuera said. "Mrs. Hughes at the Taft library noticed what I liked to read. When I'd return my books, it wasn't unusual for her to have a suggested stack already waiting for me."
Then Mrs. Hughes started offering dial-a-story for kids who couldn't get to the library.
"Mrs. Hughes was animated and magical," Higuera said. "I couldn't wait for Mondays after school. I'd rush home and tie up the line to hear the new story over and over."
Elements of Higuera's own story, including her childhood struggles to balance her Chicana and white heritage, and now as a parent with a multiracial family, figure prominently in "Lupe Wong Won't Dance."
"Many parts of my Latinx culture were my most treasured memories, but also some that I felt I couldn't fully embrace," she said. "My children are Chinese, so 'Lupe Wong' is mostly based on them. Lupe is sort of my fourth daughter."
The book was released in September 2020 and follows the trials and tribulations of main character Lupe Wong.
"Lupe is a complicated character. She's navigating multiple cultures. She has strong opinions regarding gender biases. She's a bit of a social justice warrior," Higuera said. "As we all do, she also has her faults and grows a lot in this story. So much of this story is how I feel, but also how my own children feel. I have actively promoted for my kids to embrace all of who they are. I hope I've taught them, like Lupe's family does with her, to love all those parts of who you are."
Higuera's story clicked, and critics raved. "Lupe Wong Won't Dance" won the American Library Association's Pura Belpre Honor Award and Best Books for Youth List 2020, the Sid Fleishman Award and the Pacific Northwest Booksellers Award.
The acclaim took Higuera by surprise.
"I cried a lot. Happy tears," she said. "I never dreamed Lupe Wong's story would have such far reach. To have others read and not only identify with it, but knowing that kids like myself and my own children will be able to identify with a character and say, 'Hey, Lupe's sort of like me!' is huge and extremely emotional."
Higuera has two more books due to publish this year. Her debut picture book, "El Cucuy is Scared, Too!" will be released by Abrams Kids in July. Her middle-grade sci-fi novel "The Last Cuentista" will be released by Levine Querido this fall.
Higuera lives in Washington State with her family, three dogs and two frogs.