Upcoming Sno-Isle Libraries Open Book guest author Christina Soontornvat has won numerous awards for her books that appeal to children of all ages.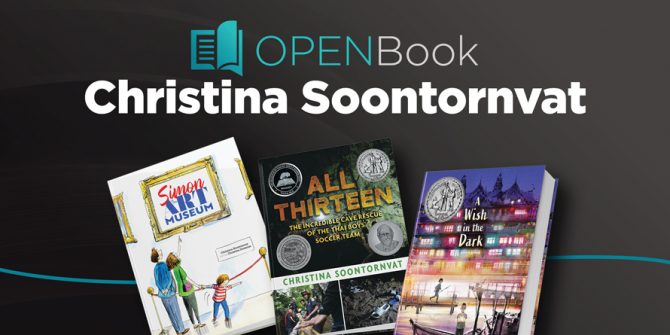 Soontornvat will visit Sno-Isle Libraries virtually in a Zoom webinar at 10 a.m. Wednesday, May 19. Please register in advance for this event. 
Soontornvat has written more than a dozen books, including "The Ramble Shamble Children," illustrated by Caldecott Honoree Lauren Castillo, and "Simon at the Art Museum," illustrated by Christine Davenier.  She is also the author of the beloved, six-title "Diary of an Ice Princess" chapter book series. 
Soontornvat has been busy in the past year. 
Her latest works include the middle-grade fantasy, "A Wish in the Dark," which was named a 2021 Newbery Honor Book, and was chosen as Best Book of the Year by The Washington Post and School Library Journal, and "All Thirteen: The Incredible Cave Rescue of the Thai Boys' Soccer Team," which has received numerous nonfiction awards and was also named a 2021 Newbery Honor Book. 
Soontornvat grew up behind the counter of her parents' Thai restaurant in a small Texas town with her nose stuck in a book. She now lives in Austin, Texas, with her husband, two young children and one old cat. 
She's proud of both her Thai and her Texan roots, and makes regular trips to both Weatherford, Texas, and Bangkok to visit family.  
Soontornvat isn't just a children's book author. She holds a Bachelor of Science in Mechanical Engineering and a master's degree in Science Education. She spent a decade working in the science museum field, where she designed programs and exhibits to get children excited about science. She is passionate about STEM (science, technology engineering and math), and loves learning new things. 
Soontornvat recommends the following titles for young readers as "nonfiction that stirs the heart and mind." 
"Box: Henry Brown Mails Himself to Freedom," by Carole Boston Weatherford and Michele Wood 
"Changing the Equation: 50+ US Black Women in STEM," by Tonya Bolden  
"Fauja Singh Keeps Going: The True Story of the Oldest Person to Ever Run a Marathon," by Simran Jeet Singh and Baljinder Kauer 
"Paper Son: The Inspiring Story of Tyrus Wong, Immigrant and Artist," by Julie Leung and Chris Sasaki 
"No Small Potatoes: Junius G. Groves and His Kingdom in Kansas," by Tonya Bolden and Don Tate 
"A Girl Named Rosita: The Story of Rita Moreno: Actor, Singer, Dancer, Trailblazer!" by Anika Aldamuy Denise and Leo Espinosa 
"Muslim Girls Rise: Inspirational Champions of our Time," by Saira Mir and Aaliya Jaleel 
"Yang Warriors," by Kao Kalia Yang and Billy Thao