Contact-free pickup is available at all 23 of Sno-Isle Libraries community libraries across Snohomish and Island counties.
Library customers can browse the collection and place holds on books and other physical materials. Customers will receive an automated email and/or phone call when their requested items are ready for contact-free pick up during operating hours at their community library. Customers can go to their library and call the pickup-notification number posted at the library and listed online. A library staff member will meet the customer at the designated door, verify the name or library card number and place the items outside the door in a labeled, recyclable paper bag.
Customers may also return borrowed library items to designated crates outside the library or use the exterior book return (if available) during library operating hours. All returned materials are quarantined for 24 hours before being handled and processed by staff members and returned to circulation. All print magazines have been removed from circulation.
While Sno-Isle Libraries staff members are working in community libraries, the buildings remain closed to the public.
Sno-Isle Libraries buildings have been closed since March 13, following local and state guidelines regarding COVID-19. Since then, many new and expanded online resources, events and services have been developed and made available to customers and the public.
Contact-free services are allowed under the state's Phase 2 guidelines. As some areas move to Phase 3, the library district will continue to provide services in ways that are safe for both customers and employees.
Contact-free library hours and pickup phone numbers: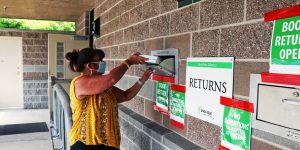 Arlington: 10 a.m.-5 p.m. Wednesday-Saturday; 11 a.m.-7 p.m. Monday, Tuesday: 1-5 p.m. Sunday. 360-651-7174
Brier: 10 a.m.-5 p.m. Thursday-Saturday; noon-7 p.m. Tuesday, Wednesday. 360-651-7176  
Camano Island: 10 a.m.-5 p.m. Monday, Wednesday, Friday, Saturday; noon-7 p.m. Tuesday, Thursday. 360-651-7173
Clinton: 10 a.m.-5 p.m. Tuesday, Friday, Saturday; noon-7 p.m. Wednesday, Thursday. 360-651-7178
Coupeville: 10 a.m.-5 p.m. Tuesday, Thursday-Saturday; 11 a.m.-7 p.m. Monday, Wednesday; 1-5 p.m. Sunday. 360-651-7179
Darrington: 10 a.m.-5 p.m. Monday, Thursday-Saturday; noon-7 p.m. Tuesday-Wednesday. 360-651-7180
Edmonds: 10 a.m.-6 p.m. Wednesday-Saturday; 11 a.m.-7 p.m. Monday, Tuesday; 1-5 p.m. Sunday. 360-651-7181
Freeland: 10 a.m.-5 p.m. Monday, Wednesday, Friday, Saturday; 11 a.m.-7 p.m. Tuesday, Thursday; 1-5 p.m. Sunday. 360-651-7182
Granite Falls: 10 a.m.-5 p.m. Monday, Wednesday, Friday, Saturday; 11 a.m.-7 p.m. Tuesday, Thursday; 1-5 p.m. Sunday. 360-651-7183
Lake Stevens: 10 a.m.-5 p.m. Monday, Wednesday, Friday, Saturday; 11 a.m.-7 p.m. Tuesday, Thursday; 1-5 p.m. Sunday. 360-651-7184
Lakewood/Smokey Point: 10 a.m.-5 p.m. Wednesday, Friday, Saturday; noon-7 p.m. Tuesday, Thursday. 360-651-7186
Langley: 10 a.m.-5 p.m. Tuesday, Thursday-Saturday; 11 a.m.-7 p.m. Monday, Wednesday. 360-651-7185
Lynnwood: 10 a.m.-6 p.m. Wednesday-Saturday; 11 a.m.-7 p.m. Monday, Tuesday; 1-5 p.m. Sunday. 360-651-7187
Mariner: 10 a.m.-5 p.m. Monday, Wednesday, Friday, Saturday; noon-7 p.m. Tuesday, Thursday. 360-651-7190
Marysville: 10 a.m.-6 p.m. Wednesday-Saturday; 11 a.m.-7 p.m. Monday, Tuesday; 1-5 p.m. Sunday. 360-651-7188  
Mill Creek: 10 a.m.-6 p.m. Wednesday-Saturday; 11 a.m.-7 p.m. Monday, Tuesday; 1-5 p.m. Sunday. 360-651-7189
Monroe: 10 a.m.-5 p.m. Wednesday-Saturday; 11 a.m.-7 p.m. Monday, Tuesday; 1-5 p.m. Sunday. 360-651-7192
Mountlake Terrace: 10 a.m.-6 p.m. Wednesday-Saturday; 11 a.m.-7 p.m. Monday, Tuesday; 1-5 p.m. Sunday. 360-651-7193
Mukilteo: 10 a.m.-6 p.m. Monday, Tuesday, Friday, Saturday; 11 a.m.-7 p.m. Wednesday, Thursday; 1-5 p.m. Sunday. 360-651-7194
Oak Harbor: 10 a.m.-6 p.m. Monday, Wednesday, Friday, Saturday; 11 a.m.-7 p.m. Tuesday, Thursday; 1-5 p.m. Sunday. 360-651-7195
Snohomish: 10 a.m.-6 p.m. Tuesday, Wednesday, Friday, Saturday; 11 a.m.-7 p.m. Monday-Thursday; 1-5 p.m. Sunday. 360-651-7196
Stanwood: 10 a.m.-5 p.m. Tuesday, Thursday-Saturday; 11 a.m.-7 p.m. Monday, Wednesday; 1-5 p.m. Sunday. 360-651-7197
Sultan: 10 a.m.-5 p.m. Wednesday-Saturday; noon-7 p.m. Monday, Tuesday. 360-651-7198