Sno-Isle Libraries Service Center parking lot served as a distribution center Aug. 29 for 150 backpacks filled with school supplies for military families. 
About 10 volunteers with the Operation Homefront Back-to-School Brigade, Funko in Everett, United Through Reading and a U.S. Navy school liaison officer filled a steady stream of vehicles with backpacks, educational information, Funko Pops figurines and Sesame Street activity books, said Sara Rizzo, area manager for Operation Homefront. Funko's Tumblebee mascot greeted the families and waved from a socially safe distance. 
Operation Homefront got help organizing the event from Sno-Isle Libraries Assistant Director of Facilities, Safety and Security R.D. Burley and his wife, Olivia, who is also Rizzo's boss.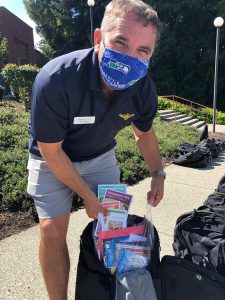 Nike donated the backpacks and Operation Homefront filled them with donated pencils, scissors, crayons, paper, rulers and other school supplies, Rizzo said. Tutor.com provided information about tutoring for military families. Sno-Isle Libraries included information about its Homework Help programs, contact-free services and online services. 
Rizzo said the Service Center's parking lot worked very well. 
"It's a great location. It's secluded and there's no passing traffic to deal with," Rizzo said.  
Operation Homefront Back-to-School Brigade provided back-to-school backpacks to 1,250 military families in Washington this year, Rizzo said. The organization has served more than 350,000 families across the United States over the last 12 years.