Art works by 80 Snohomish-area students are now on display at the Snohomish Library.
Under the theme "Tell Your Story," the 80 student artists, ages 14-18, submitted works in pastels, watercolor, charcoal, pencil and mixed-media collages, said Maron Resur, from the Snohomish Library. Submissions came from students at Snohomish and Glacier Peak high schools, AIM alternative school, one home-schooled student and one from Centennial Middle School.
The submissions were open through October to all students who attend Snohomish schools or live in the Snohomish School District. The art show is in the library lobby display cases through Nov. 30. Viewers can cast "people's choice" votes for their favorite piece.
Resur appreciates the work that school art teachers did for the show.
"The art teachers really helped get the works together and get them here," she said. Resur also credited Mill Creek Library librarian Christa Werle for help with entries from Glacier Peak High School.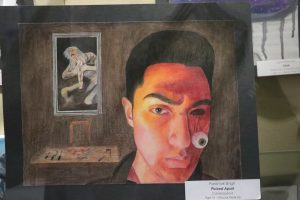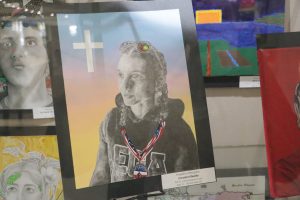 This is the third year for the Teen Art Show, Resur said. The show had 33 entries in its first year and 70 entries last year. The 80 pieces are "the perfect amount to show," Resur said.
Both display cases are full and Resur needed five hours to finish the installation. As she worked on the display, people stopped to watch.
"Customers were mesmerized by the art," Resur said. "It's the best (show) we've ever had."
The details in some of the artworks mesmerized her, too, such as a miniature of a painting by Spanish artist Francisco Goya in the background of one self-portrait. "I didn't expect to see that," she said.
Resur, Friends of the Snohomish Library President Terry Lippincott and Traumhaus Gallery-owner Krista Lutz will serve as the official jurors for the show. Friends of the Snohomish Library will award a $100 first prize, $75 for second and $50 for third, plus any honorable mentions. The People's Choice award is separate from the Friends of the Snohomish Library prizes, Resur said.
After Resur takes down the display on Nov. 30, there will be a closing reception at 4 p.m. Saturday, Dec. 7, to announce the winners.
Winning students can choose to have their art displayed in the library's teen area for the year, she said.