The Trudy Sundberg Lecture Series scheduled for May 1-2 on Whidbey Island has been cancelled due to coronavirus precautions.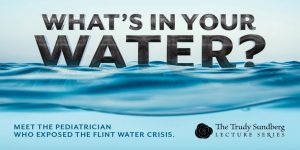 Sno-Isle Libraries Foundation Vice President and lecture series chair Marshall Goldberg was understandably disappointed at not hosting this year's planned speaker, Dr. Mona Hanna-Attisha, the pediatrician and researcher who helped expose the Flint, Mich., water crisis in 2014.
There is good news, Goldberg said: Hanna-Attisha has agreed to come to Whidbey Island for the Trudy Sundberg Lecture Series, tentatively scheduled for May 7-8, 2021.
Goldberg found another silver lining in the change.
"We've never been this far ahead in planning the series," he said. "All we have to do now is find venues."
The Trudy Sundberg Lecture Series had invited Hanna-Attisha to speak about public health and water safety. Award-winning Seattle broadcast journalist Enrique Cerna, who worked in radio and television at KOMO, KING and KCTS for 37 years, agreed to moderate the discussions. Cerna has also agreed to be moderator in 2021.
Hanna-Attisha rose to prominence after the city of Flint changed its water source and lead levels in drinking water suddenly spiked. Local and state officials in Michigan were slow to react to the public health emergency. Hanna-Attisha brought the city's crisis to the nation's attention.
Trudy Sundberg was a well-respected English and journalism teacher at Oak Harbor High School and founded the Whidbey Island Democratic Club, served three times as president of the League of Women Voters of Whidbey Island, founded the Whidbey Reads book group and the Save Our Kids Crusade, and earned the Sen. Warren G. Magnuson Lifetime Achievement Award.
The Trudy Sundberg Lecture Series began in 2014, a year after Sundberg passed away. Each year, an eminent speaker, selected by a team of community and library staff representatives, explores the areas of interest that Sundberg shared: education, literature, history, the arts, civic engagement and politics.
The Trudy J. Sundberg Memorial Fund and the Sno-Isle Libraries Foundation underwrite the annual lecture series honoring the memory of Sundberg and her lifelong commitment to discover, explore and exchange information, ideas and opinions in an environment of respect and consideration.