Sno-Isle Libraries will wrap up Issues That Matter: Pandemic Pressures with two events centered on the stresses caregivers have endured for a year.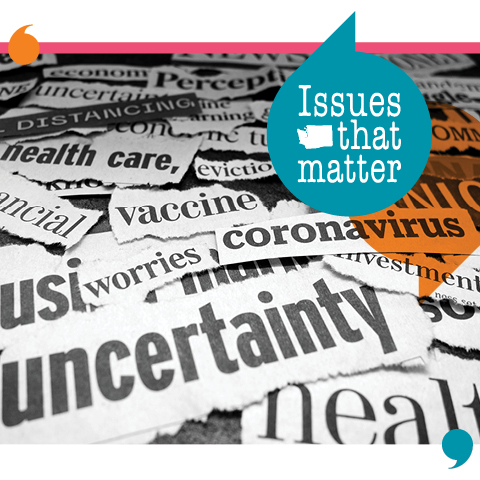 Learn how you can care for yourself and why it's important while you care for others – whether it's aging parents or children or both.
The first session, Caring for the Caregivers, will address the issues faced by all those who help seniors and older generations. It's scheduled for 6:30-8 p.m. Thursday, March 11.
The second session, Care for Kids, Care for Yourself, will focus on the needs of parents and other caregivers with children at home. It's scheduled for 10-11:30 a.m. Saturday, March 13.
Panelists are scheduled to include Sandra Huber, community engagement manager for Verdant Health Commission; Keith Binkley, president of the Snohomish County affiliate of NAMI, the National Alliance for Mental Illness; and Beth Rahi, case manager for the Family Caregiver Support Program and Tailored Support for Older Adults Program.
Huber speaks about the Latino community, immigrants and ancestral traditions for getting through difficult times. She was born and raised in Panama City, Panama, came to the U.S. to study industrial engineering and then found her calling in social services.  She played a key role in developing Snohomish County's Community Health Worker program (Promotores de Salud). Sandra was a bilingual family resources coordinator at Childstrive (formerly Little Red Schoolhouse) and managed the Familias Unidas Program from Lutheran Community Services Northwest. She was recognized with the 2015 Health Champion Award from the Washington State Public Health Association, and the 2015 Providence Institute Agency Change Maker Award.
Binkley has been president of NAMI Snohomish for eight years. He discovered NAMI 13 years ago, not long after a family member was diagnosed with bipolar disorder. Keith and his wife, Mary, took NAMI's Family to Family Course to learn more about mental health, then became trained to facilitate the class. Binkley is also trained as a NAMI Family Support Group facilitator and has co-facilitated a group in Marysville for five years and has been trained in NAMI's Provider Education Program.
Rahi works with families and older adults for Island Senior Resources. "I am very excited about this opportunity. As a Family Caregiver Support Case Manager this is my passion, taking care of the caregivers," she said.
Both events will be recorded for later viewing on the Sno-Isle Libraries YouTube channel.
Please register to ensure you receive a reminder the day before the event, and to help us get a head count. On the day of the event, return to the Sno-Isle Library events listing for the Zoom link to access the program. Sign in a few minutes early to allow time to settle in and make sure everything is working.