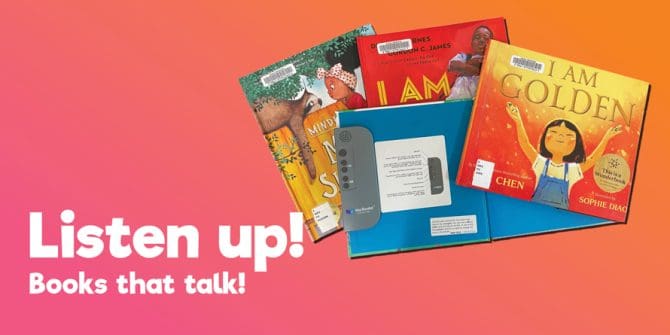 The benefits of read-along books last a lifetime! Listening to stories is a cornerstone of early literacy. While we are big fans of gathering together for Storytimes, we also love recorded books because they offer another way for children to build their vocabularies and comprehension, before they begin to read independently. 
To support our youngest customers in their literacy journey, Sno-Isle Libraries is launching a new physical audiobook format called Easy MP3!  
Children can improve their reading success rate by hearing and seeing words at the same time. Easy MP3 books give new readers an edge with vocabulary development, phonics, and comprehension — plus deeper engagement with every book!  
Easy MP3s have an audio player attached to the print picture book. Listen over the built-in speaker or use headphones. There is no need for any additional equipment or a Wi-Fi connection — kids can simply press play and read along with their favorite books. 
Find your child's next reading adventure with Easy MP3. 
Questions or comments? Contact us!