Now a ghost town, money from coast to coast once banked on Monte Cristo and its promise of silver and gold. Located in the northeastern part of Snohomish County, the area was developed and mined during the gold boom of the 1890s. 
Unfortunately, circumstances from difficult terrain to climate to financing ultimately made it impossible for Monte Cristo to fulfill its mining dream. On and off through the 1950s the area became a destination site for tourists who visited by train for day trips or stay in nearby rustic resorts.
Even that could not be sustained and today what remains of the town and its past is protected by the Monte Cristo Preservation Association.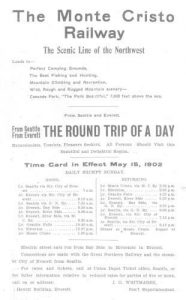 To view more photos from the past, visit the online historic photo archive.